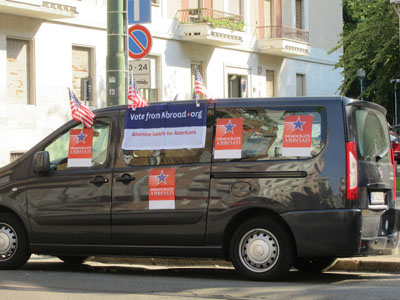 Democrats Abroad, the official arm of the US Democratic Party, is promoting an innovative project in Europe, the Democrats Abroad Road Trip, to increase the number of overseas Americans who register to vote. The Democrats Abroad Road Trip bus will arrive in Luxembourg on 22 June, when the residents of Luxembourg converge on Luxembourg-Ville to begin the celebration of the Fête Nationale. From a stand at 42 Grand Rue, volunteers from all over Europe will work with local, non-partisan teams to register all Americans to vote, regardless of political party or affiliation.
While decorated buses carrying political activists are a common sight in the US, this will be a first for Europe. The bus has already stopped in Hungary, Austria, Italy and Spain. Volunteers from Luxembourg will join the trip through France, Germany and the Netherlands. The tour will conclude in London on 14 July, after 27 cities in 13 countries.
At each stop, teams will register voters using the www.votefromabroad.org website, which helps Americans navigate the different requirements for each US state. Unlike Europeans, Americans living abroad must re-request their absentee ballots for every election cycle, making this 2012 registration drive particularly crucial.
"Americans living here may not be aware of how much the overseas vote counts" said Roger Behrend, Democrats Abroad Country Chair for Luxembourg. "There are many tight Senate races and few projected landslides. And it's in the tight races where our votes have played a crucial role in previous Senate and Congressional races and will again this November."