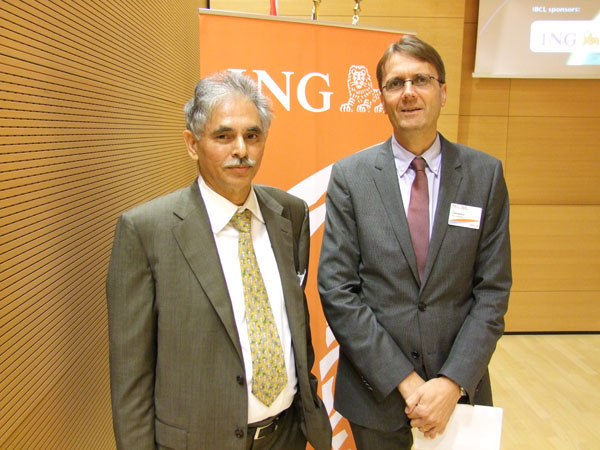 The Indian Business Chamber of Luxembourg (IBCL) organised an evening seminar at the Chambre de Commerce yesterday evening, hosted jointly by ING Luxembourg.
The seminar, entitled "Economic & Business Opportunities in India from a European Perspective" featured Rik Vandenberghe, CEO of ING Luxembourg, as well as Julien Manceaux, Senior Economist at ING BE, Eurozone team, who presented "ING's view on recent and future euro area macroeconomic developments and India's position in the commercial relations of Europe and Luxembourg". Werner Poot, Member of the Executive Committee at Ackermans & Van Haaren, presented a testimonial on "Drivers for investing in India", followed by Georges Rassel, COO of Paul Wurth Group, who presented his on "Paul Wurth experience in engineering and equipment for the Indian industry".
IBCL Chairman, Sudhir Kohli, addressed the audience of business leaders and called on them to demonstrate that the economic link is a cornerstone relationship between India and the EU, two of the most important global economies.
With the current economic slowdown forcing all of us to rethink our priorities and position ourselves for new economic challenges and opportunities.
Such gatherings provide a reality-check for policy-makers as we try to boost bilateral and multilateral trade and investment ties between the EU and India. Governments can implement the right framework conditions and improve business opportunities, but it is up to private sector business leaders to exploit them.
India's reform progress is an important part in this equation; India is working hard to cross off, point by point, an ambitious economic reform agenda. The impact of this has already been felt in domains such as telecommunications, insurance, foreign exchange control, removal of caps on foreign and direct investment, and recently in the retail sector to name just a few.
The biggest boost to our bilateral relations will come, once the ambitious India-EU Free Trade Agreement, officially known as the Bilateral Trade and Investment Agreement, is signed. This agreement will cover bilateral trade, investments, intellectual property rights, data security and various other sectors.
Photo by Geoff THOMPSON (L-R): Sudhir Kohli, ÎBCL Chairman; Rik Vandenberghe, CEO of ING Luxembourg