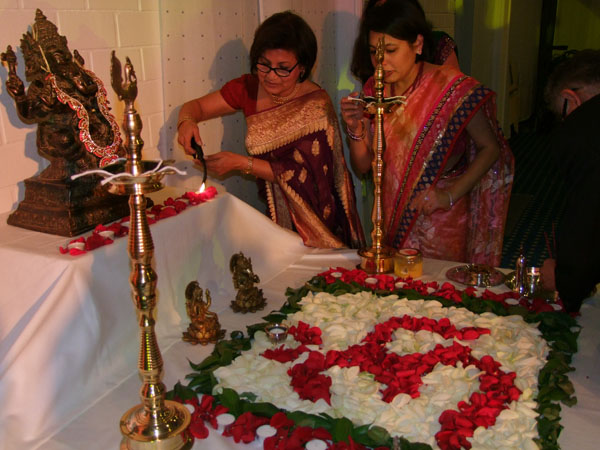 The third annual Diwali celebration of the Hindu festival organised by the Indian Business Chamber Luxembourg (IBCL) was held on Saturday evening at the Parc Alvisse Hotel in Dommeldange.
While the temperatures were plummeting outside, temperatures inside were on the way up as a crowd of 500 people celebrated the Indian festival of lights. With Pedro Castilho, Board Member of the IBCL, acting as MC for the evening's activities, Anurag Goel, Counsellor at the Indian Embassy in Brussels, and Sudhir Kohli, Chairman of IBCL in Luxembourg addressed the massive turn-out.
Various companies with Indian connections boosted the numbers by reserving tables, including ArcelorMittal, Ernst & Young, BGL BNP Paribas, TCS, HSBC and more. Sudhir Kohli congratulated the Luxembourg royal couple on their recent wedding and explained how the IBCL is delighted to be supporting such traditional events as Diwali. He stated that we need to strengthen the commercial ties between Luxembourg and India which can only be done by understanding and respecting the cultural issues between the two countries. A trade delegation from Luxembourg is expected to travel to India next year. He also aksed those present to think of others at this time, promoting inclusion to those who are less well off.
The lights were then lit and prayers were offered to Ganesha, the elephant god, for prosperity.
As well as a delicious spead of traditional Indian food, the evening featured a tombola with prizes offered by Indian shops in Luxembourg as well as two airlines. Then the entertainment started and featured Karan and his troupe of Panglai and Kspark dancers from London. They dazzled the audience with their mix of classical Indian dance as well as Bollywood style dance to round off a truly enjoyable evening which also included audience participation as Karan taught them some Bollywood dance steps.
Photos by Geoff THOMPSON