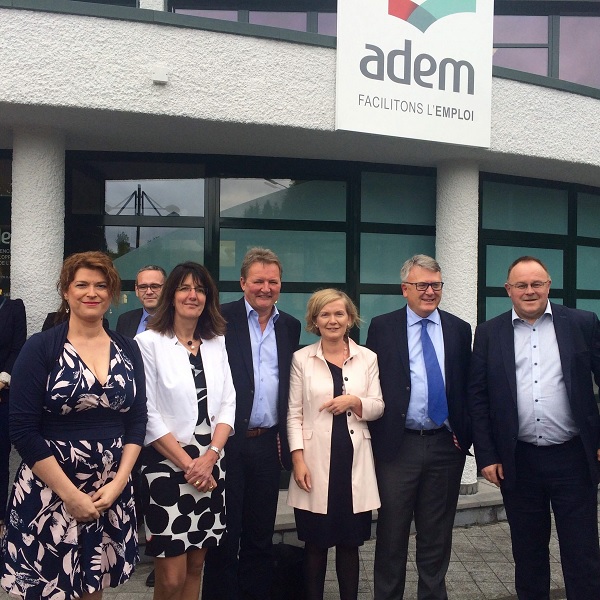 On Friday 1 July 2016, Minister of Labour, Employment and the Social and Solidarity Economy, Nicolas Schmit, the direction of the Agence pour le développement de l'emploi (ADEM) and Mayor of Wiltz, Fränk Arndt, inaugurated the new premises of the Wiltz agency located at 20, rue de Winseler.
Minister Schmit stated that "the physical reception of ADEM's clients also forms part of the important points of the reform. A good reception means better service to our customers."
Wiltz's Mayor, Fränk Arndt, commented "as a regional capital of the Ardennes, Wiltz has the ambition to offer its residents optimal infrastructure and accessibility to all public services. The new regional ADEM offices in Wiltz and the development of the services offered there are part of the strategic vision of our town."
In all, 11 employees work in this agency, twice more than ten years ago. As Nathalie Velikonia, head of the agency, explained: "ADEM Wiltz offers various services to job seekers: personalised monitoring as well as the supervision of jobseekers with the status of the disabled; unemployment benefits and the organisation of workshops on the job search. The Inspectorate of Labour and Mines (ITM) also holds a permanence."
"Following the renovation of the agency in Diekirch and the ongoing work in Luxembourg City, this new Wiltz agency allows us to optimally accommodate our customers optimally," concluded Isabelle Schlesser, Director of ADEM. "We also take advantage of our small agencies to launch pilot projects. At Wiltz, we will start a project to improve the mobility of job seekers."
Photo by ADEM (L-R): Nathalie Velikonia,Head of the agency in Wiltz; Gaby Wagner, deputy director of the ADEM; Fränk Arndt, Mayor of Wiltz; Isabelle Schlesser, Director of ADEM; Nicolas Schmit, Minister of Labour, Employment, Social and Solidarity Economy; Romain Schneider, Minister for Social Security