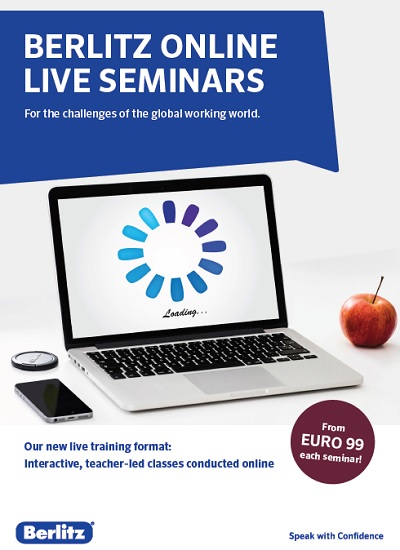 Since the beginning of 2016, Berlitz language training has been offering online seminars in addition to its classroom and offsite training seminars.
With education going digital, one can achieve sustainable learning in just three hours, similar to face-to-face seminars. These online seminars allow participants to boost their career with little effort and low investment. Currently, a majority of the proven Berlitz Seminars is available as most compact, interactive live trainings in virtual classrooms, guaranteeing highest quality standards, supported by latest technologies. The Berlitz Online Live Seminars provide participants with the required intercultural knowledge as well as management and leadership skills.
Undertaken in virtual classrooms with highly qualified and experienced Berlitz Instructors, the seminars each comprise 2 sessions of 90 minutes, with preparation and interim tasks, with small groups with maximum 12 participants each.
The topics include:
- BUSINESS ACROSS CULTURES
- EFFICIENT COMMUNICATION
- HOW TO GIVE AND RECEIVE FEEDBACK
- FACILITATING INTERACTIVE MEETINGS
- HOW TO RESOLVE CONFLICTS
- CREATIVITY TECHNIQUES
- MY PERSONAL RESILIENCE @ WORK
- DEALING WITH CHANGE
- WORKING IN VIRTUAL TEAMS
Cost: from €99 per seminar
For further details, contact Berlitz Language and Business Training S.à.r.l. at www.berlitz.lu.