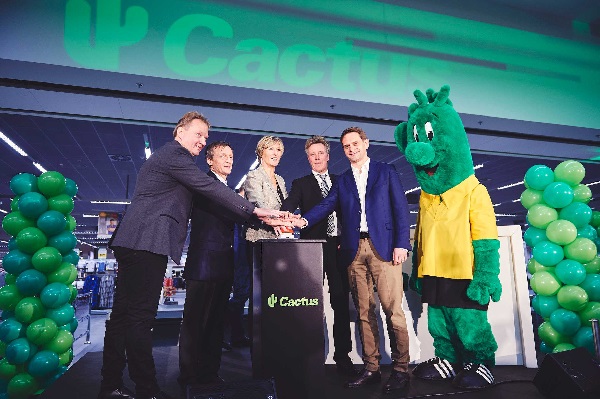 L-R: Dan Bernard, manager of Cactus Bettembourg; Max Leesch, Cactus group; Francine Closener, Secretary of State for the Economy; Laurent Schonckert, Cactus group; Laurent Zeimet, Mayor of Bettembourg; Credit: Cactus
Today, 22 November 2017, marked the opening of a second Cactus supermarket in Bettembourg.
The Cactus group has opened its second point of sale in Bettembourg, with a wider offer than the Cactus Marché convenience store established in the municipality since 1980. From 22 November, the new Cactus supermarket welcomes customers in the Schéleck 3 industrial zone in Bettembourg.
With a surface area of 4,400 m2, customers will find an assortment of nearly 40,000 items, including some 2,000 organic products, 3,000 Luxembourgish products, 900 wines, 600 Portuguese products and a wide range of homemade specialties. In the basement, at the parking level, a 450 m2 Drink Shop will also await customers with a wide range of drinks.
In addition to the Cactus supermarket, the new building houses a complementary range of services and shops: Mister Minit, Nettoyage 5 à sec, K-Kiosk, Voyages Emile Weber, Parfumerie Milady, Coiffeur Ferber, Bijouterie Bigor, Banque Raiffeisen, a Tango shop, Acuitis opticians, NEssential/Experience bicycle shop and a Cactus fresh corner, offering hot snacks.
The new Cacus Bettembourg store is open Monday to Thursday from 8:00-20:00, Friday from 8:00 to 21:00, Saturday from 8:00 to 20:00 and Sunday from 8:00 to 13:00. 550 parking spaces are available, including 250 covered parking spaces.