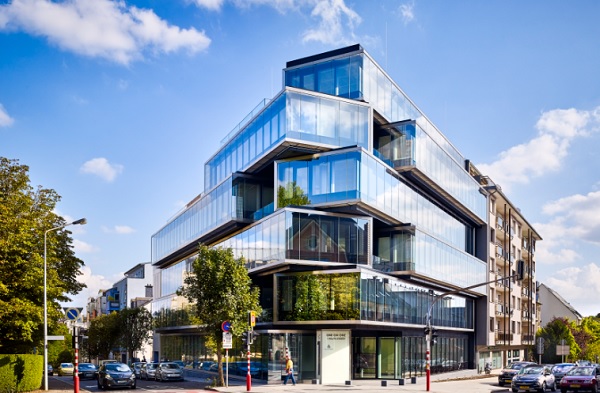 One on One, winner of Steel Construction Competition Architecture and Audience Prizes; Credit: Andres Lejona
On Tuesday 7 November 2017, Luxembourg celebrated this year's Steel Construction Day at the Chamber of Commerce, highlighting the potential of steel in leading the way to a third industrial revolution.
Steel Construction Day 2017, which took place earlier this week, focussed on the many advantages of steel when it comes to building better, more ecological and more economical infrastructure.
Throughout the day, there was much discussion of the third industrial revolution and sustainability, including the circular economy, the European project BAMB for a materials bank, the REDUCE project and of course the Rifkin strategic study initiated by the Ministry of Economy to make the Grand Duchy "a laboratory to introduce a new economic model" based on communication, mobility and energy.
Steel appeared to have big advantages compared to other materials for creating "circular" buildings which are at once safe for occupants, easy to maintain, flexible and adaptable and removable. Thanks to the assembly techniques of steel (bolting at the head), the metallic elements can be dismounted easily for reuse. These elements also lend themselves to modular constructions. Moreover, as pointed out by René Oly (Astron) on Steel Construction Day, steel performs well compared to other materials in terms of consumed grey energy.
In his address at the end of the day, the Minister of Sustainable Development and Infrastructure François Bausch also recalled that a first evaluation of the Rifkin process would take place again this week. Beyond the economic weight of the steel sector in the Grand Duchy (2,500 companies, 8% of employment), he was pleased that Arcelor Mittal has extended its collaboration with the University of Luxembourg.
The day ended with the announcement of the winners of the 2017 Steel Construction Competition, the 18th of its kind. The One on One building by Moreno architects and INCA managed to convince both the jury and the public, winning both the Architecture Prize and the Audience Award. The Jury's Special Prize went to the 'Dendrite' sculpture on the Kirchberg plateau, which the artist had originally imagined in paper.