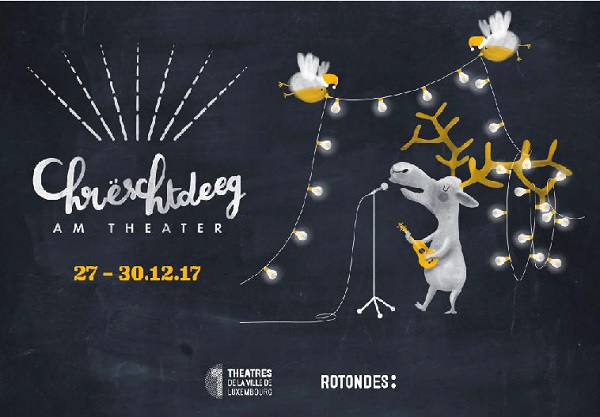 From 27 to 30 December 2017, the Rotondes and Theatres of the Ville de Luxembourg present the 10th edition of "Chrëschtdeeg am Theater" (Christmas at the Theatre), an opportunity to enjoy convivial moments at the theatre for the whole family.
One production in English is "Get Happy", by Told by an Idiot. Described as a "madcap little gem" (Time Out), Get Happy is a Christmas show for children and adults of all ages: wild, mischievous and a whole load of fun.
Enter a world of artfully controlled chaos. There's a mysterious bad that drops from a height. Shoes have magical powers. And the strangest egg sandwich is made in front of your eyes.
Physical comedy, live music, acrobatics, silly dancing and audience interaction all feature in this seasonal offering with a difference. Told by an Idiot has looked to the work of
Charlie Chaplin, Dr Seuss and Pina Bausch to fashion an unexpected variety performance, bursting with quirky playfulness and off-the-wall humour.
Director: Paul Hunter; Designer: Sophia Clist; Lighting Designer: Tom Snell; Sound Designer: Adrienne Quartly; Assistant director: Almundena Adalia. With: Patricia Rodriguez, Stephen Harper, Alicia Martel & Michael McNeis
Performances:
- Thur 28 December 2017 @ 11:00 + 17:00
- Fri 29 December 2017 @ 11:00 + 17:00
Tickets €10 (children €5) from www.luxembourgticket.lu
For further information, see www.theatres.lu