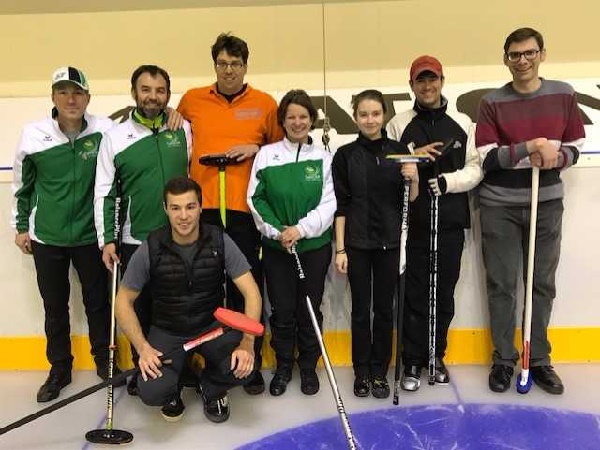 Finalists: Viry team in green with Can/Ned/Rus;
Luxembourg lost out to Parisian curling team Viry Chatillon at this year's 4 Nations Club Cup, held over the weekend at Kockelscheuer.
Following their victory in 2016, the Luxembourg teams failed to bring their usual performance to the 2017 edition of the 4 Nations Club Cup, partly due to fatigue and the addition of new players. The national teams suffered narrow defeats, ultimately losing their former championship to the curlers from Viry.
After a "Robin Round", whereby everyone plays against each team, the results were as follows:

1. Viry (France) 10 points

2. Can / Ned / Rus (Netherlands) 6 points

3. Campina Turnhout (Bel) 6 points

4. Erfurt / Frankfurt (GER) 4 points

5. Luxembourg 1 3 points

6. Luxembourg 2 1 point

 It was in the final for first place that Viry emerged victorious over the Can / Ned / Rus team by 6-3. Meanwhile, the final for the 3rd place saw Campina beat Erfurt/ Frankfurt 5-2.
The Luxembourg teams have planned increasingly intense training for the next matches.