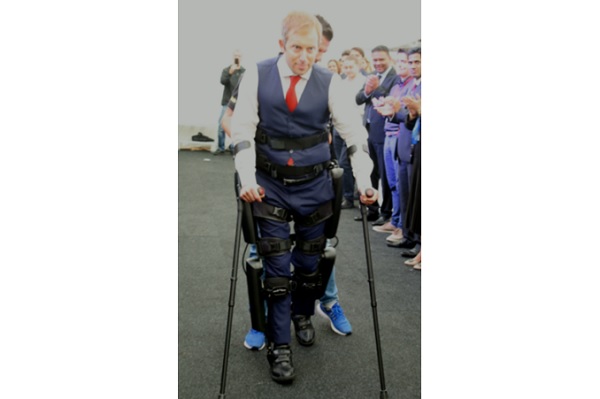 Employees of Vodafone Luxembourg have launched an ambitious fundraising campaign to help a colleague walk again; Luca Antifora, a Vodafone employee since 2004, was on a secondment for Vodafone in Qatar when a life-threatening cycling accident left him paralysed from the waist down.
Inspired by Luca's strength and determination, his colleagues in Luxembourg have launched a fundraising campaign to purchase him an ExoSkeleton. This modern technology will allow him to walk again. Vodafone Foundation has generously offered to match funds raised by the campaign. With this support, the fundraising objective for the project is €50,000.
As part of the campaign, a group of 30 employees from Vodafone Luxembourg are participating in an ambitious team walk covering the 600km between the office in Luxembourg and the Vodafone headquarters in London. The teams will leave Luxembourg on Friday 8 December and arrive in London on Tuesday 12 December.
"It's a great cause and is a perfect way for us to get together as a community and get behind one of our employees. What better way to support Luca's ambition to walk again, than for a bunch of his colleagues to walk a crazy distance across 4 countries and collect some money along the way. The timing is perfect for us to push the limit and raise the money by Christmas so Luca can receive the best present ever!" said Karl Burns, Head of HR.
Luca Antifora commented: "I've been in intensive training to learn to use the ExoSkeleton for a couple months now. It's very hard work to build the strength and balance I'll need to walk. But knowing that I have this incredible support from my colleagues at Vodafone motivates me to push myself beyond my limits each time I'm training to use the suit."
The walkers will leave the Vodafone office in Kirchberg (15 rue Edward Steichen) on 8 December at noon. People working or living in the area are invited to come and see off the walkers and support this exciting campaign as the teams walk down rue John F. Kennedy in the direction of Luxembourg city.
To support the campaign, please visit the funding page on GoGetFunding (https://gogetfunding.com/help-luca-walk-again/)