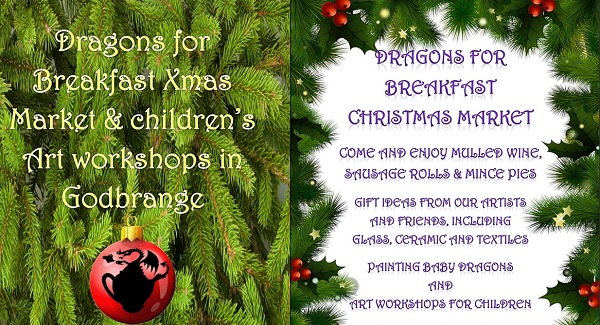 Dragons for Breakfast will hold an Xmas Market and children's art workshops on Sunday 17 December 2017 from 10:00 - 18:00 in Godbrange (3 Rue de Heffingen, L-6170 Godbrange).
Come and join the event for some seasonal refreshments while you browse through lovely gift ideas from the wonderful artists and friends. There will also be children's art workshops including our famous baby Dragons to paint. Drop by and say hello.
For refreshments there will be mulled wine, sausage rolls and mince pies.
Dragons for Breakfast consists of a loose group of Artists, budding Artists, and wannabe Artists, with a common enthusiasm for sculpting clay and DRAGONS. All profits go directly to children's charities.