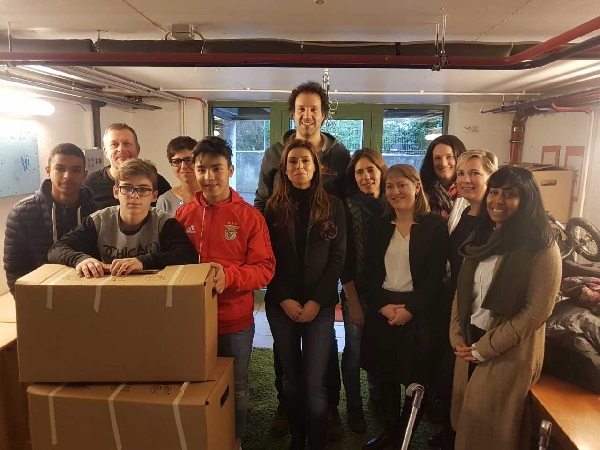 LTB tudents with their donations in the presence of teachers, Paul Galles, head of the solidarity volunteering project with Caritas Jeunes and Luc Jemming, head of Caritas Jeunes; Credit: Caritas Jeunes
Students of the Lycée Technique de Bonnevoie, in collaboration with Caritas, have commited themselves to helping refugees in Luxembourg.
On Monday 4 December 2017, the students of the Mosaïk VO class at the Lycée Technique de Bonnevoie (LTB) donated a collection of clothes, strollers and prams to Caritas Jeunes to help refugees.
Indeed, this is not the first time students from LTB have proved their charitable nature; last year, they collected 28 cases of toys for refugee homes and in Spring they mobilised for victims of forest fires in Portugal. All these actions are part of a pedagogical project oriented "Service Learning", which aims to give students the opportunity to focus on other people who are in much more difficult situations than they are and thus push aside their own problems.
As part of a long-term partnership between the LTB's Mosaïk VO Class and Young Caritas, other projects are underway. One of the missions of Young Caritas is the accompaniment of young people who engage with disadvantaged people in the short- and long-term. Every year, some 200 young people volunteer with Young Caritas.
The clothes, strollers and prams collected will be given to families of refugees who have just arrived in Luxembourg, as well as to the refugees housed in the Mondercange shelter.