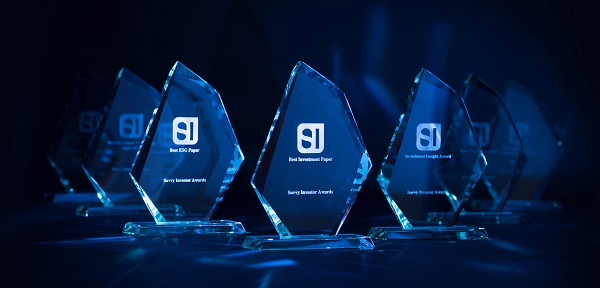 The Savvy Investor Awards 2017 celebrate the best investment and pensions papers from the last 12 months.
Savvy Investor is the world's leading research network for institutional investors. Since the site launched in 2015, the Savvy Investor research team has curated over 20,000 investment and pensions papers, placing it in a unique position to judge the best white papers of 2017.
The accolade of "Best Investment Paper 2017" is awarded to the CFA Institute Research Foundation for the paper, "Financial Market History: Reflections on the Past for Investors Today."
The CFA Institute's content has been consistently popular with Savvy Investor's institutional audience; the winning paper racking up over 2,000 views within weeks of its release.
WINNERS:
Best Investment Paper 2017: Financial Market History: Reflections on the Past for Investors Today (CFA Institute Research Foundation)
Best Asset Allocation Paper 2017: Five-Year Expected Returns 2018-2022: Coming of Age (Robeco)
Best Smart Beta Paper 2017: How active managers are using factor strategies (BlackRock)
Best Fixed Income Paper 2017: The Future of Monetary Policy (Credit Suisse)
Best ESG Paper 2017: Shifting Perceptions: ESG, Credit Risk and Ratings (UN Principles for Responsible Investment)
Best Pensions Paper 2017 (North America): Designing the Future of TDFs: A new blueprint for improving retirement outcomes (AllianceBernstein)
Best Pensions Paper 2017 (UK): Pension Fund Indicators 2017 (UBS Asset Management)
Best Superannuation Paper 2017: The Australian Superannuation Industry (ASFA)
Best Innovations Paper 2017: Disruptive Innovations: Ten More Things to Stop and Think About (Citi GPS)
Best Real Assets Paper 2017: The Behavioural Science of Real Estate Cycles (BNP Paribas Real Estate)
Best Private Equity Paper 2017: Global Private Equity Report 2017 (Bain & Company)
Best Emerging Markets Paper 2017: Asia: Leaning In (KKR)
Best Quant Paper 2017: Embracing Downside Risk (AQR Capital Management)
Best Investment Industry Paper 2017: Global Asset Management 2017: The Innovator's Advantage (Boston Consulting Group)
Best ETFs Paper 2017: Active Strategies, Indexing and the Rise of ETFs (Greenwich Associates)