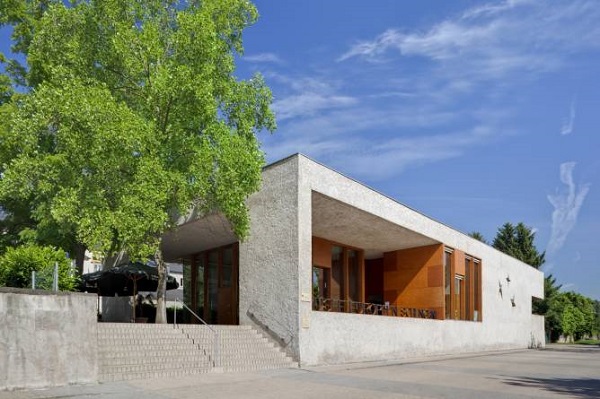 European Museum in Schengen;
The European Commission has announced that the village of Schengen has been selected by an independent committee of experts for the award of "European Heritage Label".
By virtue of Decision No 1194/2011/EU of the European Parliament and of the Council of 16 November 2011 establishing a European Union action for the European Heritage Label, the label is awarded to sites considered as milestones, of shared European history and cultural heritage, as well as the value of national and regional diversity. The label should thus contribute to strengthening the sense of belonging to the Union among European citizens, in particular young people, and to stimulating intercultural dialogue.
Since 2013, the "European Heritage Label" has been awarded to 29 sites. This year, 19 Member States have proposed 25 sites, of which 9 sites were selected today: musical heritage sites in Leipzig (Germany); the synagogue on Dohány Street (Hungary); Fort Cadine (Italy); the church of Javorca (Slovenia); the site of the former Natzweiler concentration camp and its annex camps (France and Germany); the Sighet Memorial (Romania); the Bois du Cazier (Belgium); the village of Schengen (Luxembourg) and the Maastricht Treaty (Netherlands).
The village of Schengen is the first Luxembourg site to be selected for this label. After a first attempt in 2013, Schengen's candidacy was actively supported by the Ministry of Culture and the new national co-ordinator of the European Heritage Label.
Schengen symbolises indeed one of the major results of European integration since the signing of the "Schengen Agreement, on 14 June 1985 aboard the boat "Princess Marie-Astrid "on the banks of the Moselle at Schengen, an agreement by which France, Germany and the BeNeLux countries have undertaken to abandon internal border controls of these countries. On 19 June 1990, a second agreement was signed at the same place to lay down the legal rules for the application of the "Schengen Agreement". Today, the "Schengen Area" has 26 Member States and has become synonymous with the free movement of people and goods.
The Schengen European Center, run by the Schengen a.s.b.l association, plans targeted activities especially for young people and those responsible for implementing the "Schengen Agreement".
The Commission will officially designate the new sites in February 2018 and a plaque award ceremony will take place in March 2018 in Bulgaria. The official inscription of the acronym "European Heritage Label" on the Schengen site will take place in the framework of the European Year of Cultural Heritage 2018.