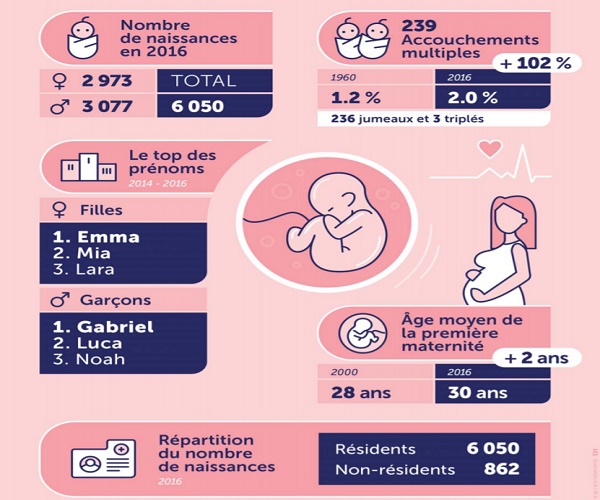 Credit: Statec
The names Emma and Gabriel came out as the top picks for babies in Luxembourg for the period 2014-16.
In recent years, the most popular name for newborn baby girls was Emma, followed by Mia and Lara. For boys, the top three names were Gabriel, Luca and Noah.
Taking into account the nationality of the children, Emma still comes out on top for Luxembourgish girls, followed by Mia and Julie, whilst the names Emma, Sofia and Lara topped the list for non-Luxembourgish girls. For Luxembourgish boys, Leo, Ben ad Luca were the top three names, whilst non-Luxembourgish boys were more often named Gabriel, David and Enzo.
Regarding the birth rate, 6,050 children were born in Luxembourg last year, with 103.5 boys being born for every 100 girls. 236 of the total number of births were twins and there were three cases of triplets. Multiple births thus increased by 102.5% over this period, while total births increased by 20.5%.

Over the period studied, the evolution of the number of births varies according to the nationality of the newborn. The number of foreign-born babies has been increasing and stabilising since the beginning of the 2000s. The number of Luxembourg babies first decreased until the early 1970s and then remained more or less constant thereafter. Until the early 2000s, the number of newborns in Luxembourg was still higher than that of foreign born babies. Subsequently, the trend is reversed, although since 2010, the number of Luxembourg births has increased significantly (+12.8%), from 2,686 in 2009 to 3,029 in 2010. This growth is mainly due to the entry into force of the law of 23 October 2008 on the Luxembourg nationality which recognises as Luxembourgish children born in Luxembourg to non-Luxembourgish parents, one of whose parents was born in the country. In 2016, there were 3,077 Luxembourgish births and 2,973 births to foreigners.