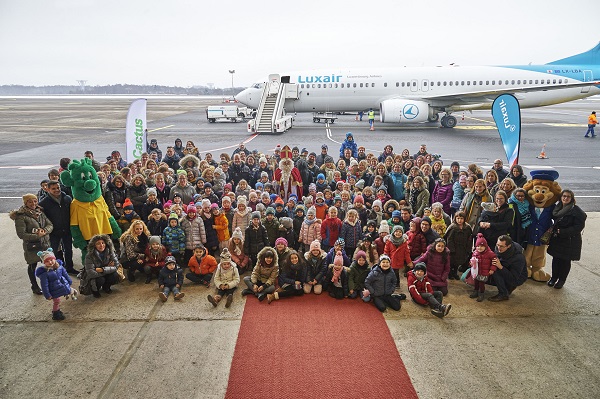 97 children accompanied by a parent flew with Luxair Luxembourg Airlines to search for St. Nicolas;
On Sunday 3 December, following the drawing contest organised by Cactus, in collaboration with Luxair Luxembourg Airlines, 97 children flew to the country of St. Nicolas, a surprise for all participants.
About fifty children selected at the drawing contest of St. Nicolas, in collaboration with Luxair Luxembourg Airlines, and about forty children selected by Luxair and RTL, flew to
the meeting of the "Kleeschen". In the early morning, Yuppi and LUXi welcomed the children at the Luxembourg air terminal. The children's agitation was tangible and the joy was on their faces.
Once in the air, the children had to sing the "Leiwe Kleeschen" in chorus, before the pilots were able to spot St. Nicolas wandering between the clouds on his sledge. Moments later, the "Kleeschen" appeared on the plane and greeted all the children, thanking them for their beautiful drawings. Their joy was enormous.
Back on earth, St. Nicolas gave them the gift of their dreams that they selected during their participation in the contest. Bright eyes, little ones went home, their gift under their arms and memories full...
To be among the participants, the children had, beforehand, deposited in a urn placed in their Cactus supermarket, their participation form cut out in the Cactus catalogue of toys.
The lucky ones were chosen following a draw.