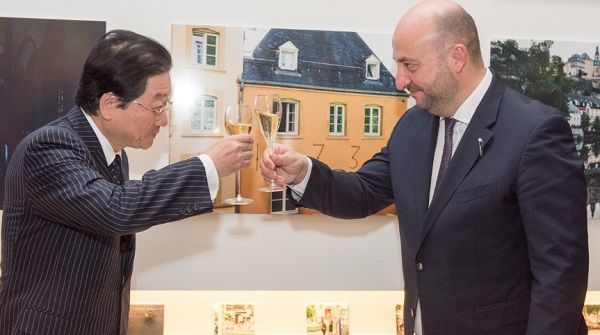 Masahiro Nakagawa, president of Yasuda Real Estate, and Étienne Schneider, Deputy Prime Minister, at Luxembourg Café in Tokyo; Credit: © SIP / Charles Caratini
As part of the state visit of HRH the Grand Duke of Luxembourg and HRH Princess Alexandra to Japan from 27 to 29 November 2017, the Ministry of the Economy and Luxembourg For Tourism (LFT) promoted Luxembourg as a tourist destination.
The ministry and tourism agency organised a series of events to include the Grand Duchy in the programmes of tour operators and Japanese travel agencies as well as to strengthen and promote the country's reputation through its offer to Japanese customers.
Like other issuing countries such as China and the United States, Japan is one of the priority distant markets in the framework of Luxembourg's tourism promotion policy abroad. Confirming the trend in other European countries, overnight tourists from such distant markets are rising in Luxembourg. Between 2012 and 2016, Japanese customers alone experienced an average growth of 5.7% per year in Luxembourg.
Accompanied by a large delegation of tourism stakeholders, the representatives of the Ministry of Economy and LFT met on Monday with about sixty tour operators and travel agents during a "tourism workshop" organised in the context of the Luxembourg-Japan Business Forum in Tokyo. This event was followed by the official inauguration of a pop-up café "Luxembourg Café" in the presence of the Deputy Prime Minister and Minister of the Economy, Étienne Schneider.
Meanwhile, yesterday on 28 November 2017, one of Japan's leading travel agencies, World Air-Sea Service (WAS) and renowned bloggers and influencers were welcomed at the Luxembourg Café to further promote Luxembourg as a tourist destination.