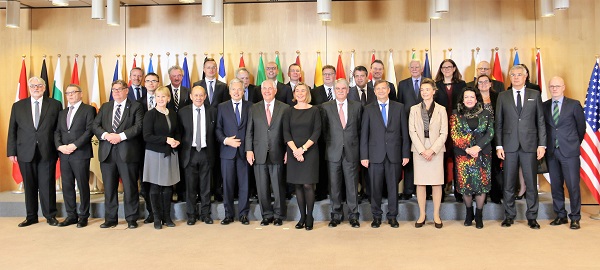 Rex Tillerson dinner in Brussels; Credit: MAEE
On Tuesday 5 December 2017, Luxembourg's Foreign and European Affairs Minister, Jean Asselborn, participated in the working lunch of 28 EU ministers with US Secretary of State, Rex Tillerson, in Brussels ahead of the ministerial meeting of NATO.
Chaired by the High Representative for Foreign Affairs and Vice-President of the European Commission, Federica Mogherini, the exchange of views between the EU Foreign Ministers and the US Secretary of State focused on ways to strengthen transatlantic co-operation in the face of major global challenges. In this context, the head of Luxembourg's diplomacy underlined that "a close transatlantic cooperation and a strong partnership between the EU and the United States are more important than ever". He recalled that "it is important to reaffirm our common values".
During the luncheon, the Foreign Ministers and the Secretary of State discussed the latest developments in the Middle East, the situation in Syria, Russia's policy and co-operation with Ukraine, as well as tensions in the Korean peninsula.
The ministers stressed that the EU and the US are strategic partners and share common values, principles and interests to jointly address common global challenges. Minister Asselborn emphasised the importance of a "multilateralism-based approach to addressing global challenges, including climate change and migration".
The meeting was also an opportunity to stress the importance of rigorously implementing the Iranian nuclear agreement, the JCPOA.