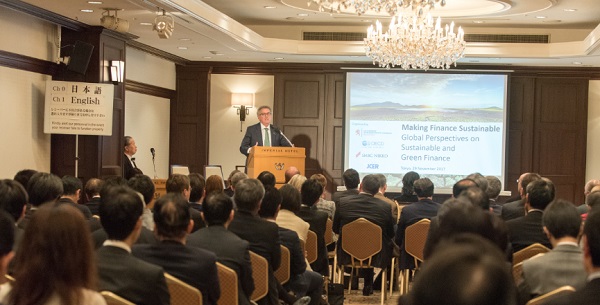 Pierre Gramegna at the financial conference at Hôtel Impérial in Tokyo; Credit: © SIP / Charles Caratini
As part of the state visit to Japan undertaken by His Royal Highness the Grand Duke of Luxembourg, Princess Alexandra and politicians between 27 and 29 November 2017, the official delegation took the opportunity to strengthen financial relations between the two countries.
At a press conference held in Tokyo earlier today, on 29 November, Pierre Gramegna, Minister of Finance, recalled that the official delegation was accompanied by an economic delegation, which included high-level representatives of the Luxembourg financial sector, such as Luxembourg for Finance's chief executive officer Nicolas Mackel, the president of the Association of Insurance and Reinsurance Companies Marie-Hélène Massard, President of the Association of Banks and Bankers Luxembourg Yves Maas and Deputy Director General of the Luxembourg Association of Investment Funds Anouk Agnes.
Following Minister Gramegna's presentation of the financial relations between Japan and Luxembourg at the Luxembourg-Japan Business Forum on Monday, the Ministry of Finance, the Luxembourg Embassy in Tokyo, the Organisation for Economic Co-operation and Development (OECD), SMBC Nikko Bank and Japan Centre for International Finance today jointly organised a conference dedicated to green and responsible finance. This event, which was attended by Princess Alexandra, brought together an audience of more than 130 decision makers and financial intermediaries, as well as Japanese experts in sustainable finance.
Moreover, the finance minister met with officials of insurance companies Aioi Nissay Dowa Insurance and Tokio Marine. Indeed, these two companies announced the creation in Luxembourg of their hub from which they will develop their activities within the European Union. In this regard, it should be recalled that a third Japanese insurer, Sompo, has also announced that it has chosen Luxembourg to establish its new European headquarters.