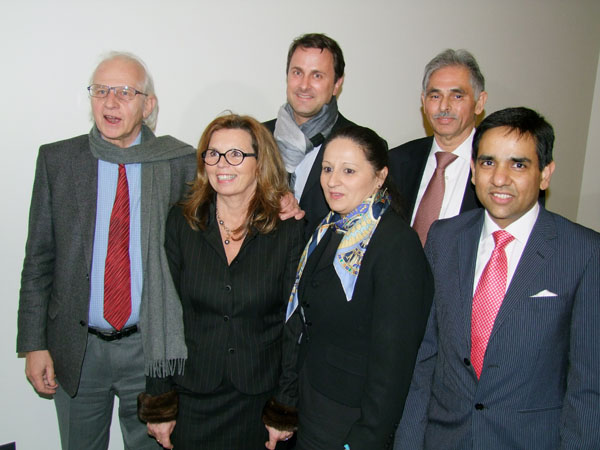 At the BGL BNP Paribas auditorium at their Agence Monterey yesterday evening, the Indian Business Chamber of Luxembourg held an Entrepreneurial Seminar on the topic of "You must be the change you want to see" with a number of guest speakers.
Ability to manage change for sustainable growth and continuity requires a consciously transforming vision. It is closely linked to discipline, strategies and decisions of what to preserve and what changes to make to stimulate growth.
Luxembourg's city Mayor, Xavier Bettel, was the first to address the audience. He referred to changes under the ground (i.e. roadworks), but still very important and can be experienced in other ways, e.g. regarding infrastructure. There are some changes you can plan and some you cannot. Regarding urban change, some things are replaced.
With people moving to Luxembourg, changes must happen as the city is now two-thirds non-Luxembourgish, a far cry from 20 or even 10 years ago when the balance was very much the other way. One of the issues of change is the school system: the Luxembourg school system is based on German, yet French- and Portuguese-speakign children are in the majority.
Changes happen too in surburbia, not just in urban areas. Since hitting the magic population figure of 100,000 last year, Luxembourg is now defined as a large city. During the day, it has 220k people, but this drops to 100k at night. The Luxembourg tram project will see change in the city, but will not be busy 100% of the time.
Some things we can't change: the financial crisis changed things for us. He also referred to huge and difficult decisions which should not be postponed, re political issues. If unemployment grows, what effect will that have on the city? The need for the tram is real, but its benefit will be felt in the future.
He finished off by saying that we need to face the truth and need to accept change, even if decisions to get there are difficult to make.
Karin Schintgen of BGL BNP Paribas then presented the Lux future Lab project, described as an innovative CSR project. It was identified with a focus on training and entrepreneurship. The bank currently undertakes 11,500 training days/year. The project also has a vision to have a positive impact on the social and economic dynamics of the country.
The project has two platforms: an incubator for start-ups and a training centre for start-ups and entrepreneurs. There are currently 10 companies housed over 1,500 m2 on two floors of the building, around 50% full to date, without any promotion. It is complimentary to the Technoport in Esch-Belval which focuses on ICT companies.
The first summer school last year attracted 22 students aged 16-17 years, from 20-31 August. The need has now been proven and the pilot project will grow.
The last speaker was from overseas, as is often the case with the IBCL. Ms. Madi Sharma is an international public speaker in the fields of entrepreneurship, diversity, gender balance and corporate social responsibility. She heads the Madi Group, a group of private sector and non-profit companies with a philosophy to create innovative ideas tailored to local action which can achieve global impacts.
She said there are two constants in life: we will die and we will live through change. She explained that at 29 she made the choice to change, with two young children and after she suffered domestic violence and was told she would never succeed.
She started off by making just 4 samosas at home and selling them locally. Eight years later she sells 10,000 products/week. She has gone from one person working from a kitchen at home to emplyoing 35 staff (all long-term unemployed) at two factories in regenration areas.
The evening concluded with a netwroking cocktail.
Photo by Geoff THOMPSON.